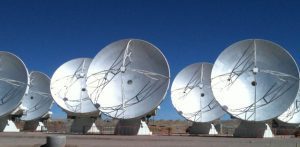 A Supplemental Call for ACA telescopes is open to use standard observing modes, as allowed for ACA stand-alone proposals in the Main Call. Proposals may request to use the 7-­m array only or the 7­-m array plus Total Power array.
All proposals accepted in the Cycle 7 Supplemental Call will receive priority Grade "C" and will have lower observing priority than ACA proposals accepted in the Cycle 7 Main Call.
The ALMA Cycle 7 proposal submission deadline is 15:00 UT on Tuesday, 1 October 2019.
ALMA Cycle 7 is currently scheduled from October 2019 to September 2020. Proposals accepted in the Supplemental Call will be scheduled for observations between January 2020 and September 2020. Further details can be found on the ESO website.